History
"Les feuilles mortes" (literally 'The Dead Leaves') was originally a melody composed by Joseph Kosma [2] as a pas de deux (choreographed duo) for the ballet Le Rendez-vous, with a plot by Jacques Prévert. [3] It was introduced by Roland Petit in 1945, without words. The copyright is dated February 27, 1946 and it was first published by Enoch (Paris, France) in 1947.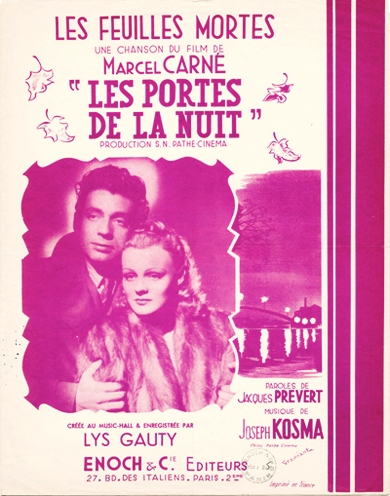 Figure 1. First sheet music with words.
Marcel Carné decided to use it in his film Les portes de la nuit and wanted it sung by Marlene Dietrich — who declined. In the movie, it is played by the whole orchestra, then by a harmonica, then hummed and sung briefly by Yves Montand, then sung by Irène Joachim (dubbed for actress Nathalie Nattier), and finishes as a waltz played by the whole orchestra. [4]
The memorable French lyrics ("C'est une chanson qui nous ressemble..."), written by Jacques Prévert, are those of a true poet. Singer Cora Vaucaire was the first to sing it in public. For four years, Yves Montand, whose name is invariably linked to the song, sang it with no success whatsoever; only in 1953 did he make it popular. Since then, the song has been adapted into countless languages and sung by a wide variety of artists, ranging from pop and rock singers to jazz musicians, while not being overlooked by classical performers such as Placido Domingo and trumpet virtuoso Maurice André. It took some time, however, for it to become a hit in America.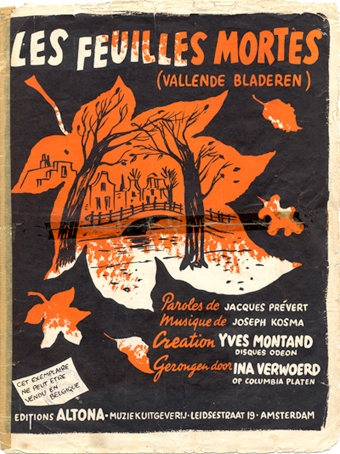 Figure 2. Dutch sheet music.
Michael Goldsen, who was in charge of Capitol's music publishing department, fell in love with this song and, in 1950, asked the great Johnny Mercer to write the English lyric ("The falling leaves drift by the window..."). Mercer agreed — and soon forgot about it. Goldsen recalls:
I waited a couple of months. Finally it had, like, three weeks to go, and no lyric. I said, 'Hey, John, I've only got three weeks to go and I lose the song.' He said, 'I'm going to New York on Friday. I'll write it on the train and send it to you from New York. You'll have it within a week. Pick me up and take me to the train station.' They lived on De Longpre. I was delayed. I was fifteen minutes late, but we had time. I saw Johnny on the porch, and he's nailing something to the door. I said, 'Hey, John, I'm sorry I'm late, but we've got plenty of time.' He said, 'I thought maybe you had an emergency. While I was waiting, I wrote the lyrics.' We got into the car and he read me the lyric. Tear came to my eyes. Everybody I played that song for flipped out. [5]
Mercer later told Michael Goldsen that he made more money from "Autumn Leaves" than from any other song that he wrote. [6] The sheet music (published by Ardmore Music, New York, N.Y. in 1950) and record sales kept "Autumn Leaves" in the first place slot of the television show Your Hit Parade for sixteen weeks in 1955.
Musical Analysis
Over the years since its first publication, the composition has undergone several adjustments. The verse is a 24-bar AA'B form, though originally it was written in twelve bars. The AA'BC form chorus was originally written in sixteen bars, but is now commonly seen as a 32-bar structure. The tune is usually played in 4/4 at a medium tempo in the key of G minor, although the original edition is in A minor.
The following analysis adopts the usual G minor key. The chorus melody spans a minor tenth and starts (A and A' sections) with a four-note ascending motif — three steps and a fourth (G A B♭ E♭). This pattern is then repeated three times, forming a descending sequence in stepwise motion.
The piece is built on exemplary harmonic progressions and is often analyzed and played in jazz schools. Verse and chorus use only two keys: G minor (the main key) and B-flat major.
The chorus is one of the rare themes starting in the relative major of the ending key which is in minor (the opposite is very common). In the A and A' sections, a ii — V — I in B-flat major is followed by a ii — V — i in the relative minor (G minor). In the B section, the process is reversed.
Below I have made a chord analysis showing the perfect harmonic balance in the first eight bars: the pivot chords help in getting a very smooth modulation on bars 4–5, and 8–9 (when coming back to the second A section).

Figure 3. "Autumn Leaves", A section analysis.
A study of the earliest printings of "Les feuilles mortes" reveals some astonishing things:
The first sheet music, a large format one, features on the cover Yves Montand and Nathalie Nattier in Les portes de la nuit (fig. 1, above). The couplet (verse) and the chorus are in A minor. The 24-bar verse is in 6/8.
Note: This article uses interactive musical notation produced using Sibelius notation software. The Sibelius Scorch plug-in allows for musical notation to be displayed as well as heard. Transcriptions are notated at concert pitch. The play button starts playback from the beginning. Clicking on any point in the notation starts the playback from that point. Key and tempo can be changed by the user. If you do not see the score, get the Scorch plug-in here.
Example 4. "Les feuilles mortes", verse.
The big surprise comes with the chorus: it does not start with a three note anacrusis, but instead the melody begins after the first beat of the first bar!
Example 5. "Les feuille mortes", chorus.
So, to achieve a proper ending, the composer had to insert a 2/4 measure before the final four-bar section, thus extending the tune to sixteen and a half bars!
In the first four-bar section of this version we find this chord progression (here transposed to G minor):
| Gm — Cm | F7 — B♭ | E♭ — Ami7♭5 | D7 — Gm |
This is hardly a new progression as it can be found exactly in Händel's Passacaille in G minor, originally the last movement from his Harpsichord Suite in G minor (HMW 432), published in 1720. Chord symbols have been added to the first two lines.
Example 6. "Passacaglia in G minor".
As Kosma studied composition and conducting at the Budapest Liszt Academy, he likely knew Händel's piece. A similar progression can also be found later in the first movement of Mozart's Sonata in F (K 332), published in 1784.
Kosma no doubt realized that his first writing of the chorus melody was a shaky one, with its odd 2/4 appendage. For the next printing, of small-format sheet music (fig. 7), he changed it, displacing the first three notes, which now became the anacrusis (fig. 9). This change was kept and from then on it works perfectly.
For the purposes of swing, the jazz musicians double the number of bars, playing the chorus as a 32-bar AA'BC form, usually in G minor. [7]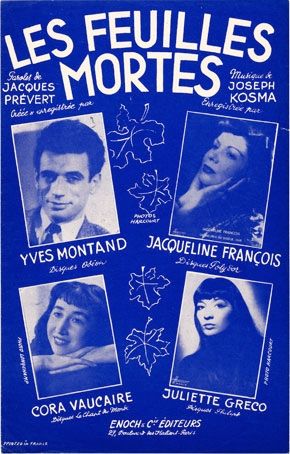 Figure 7. Later French sheet music.
Example 8. "Les feuille mortes", verse.
Example 9. "Les feuille mortes", chorus. Notice that in the first measure the wrong chord is named: Ré min. (D minor) instead of Ré7 (D7).
In this later edition, the verse is no longer in 6/8 but in 4/4 (fig. 8), the chorus is 16 measures long, and the entire tune is in E minor.
The same features can be found in my copy of the American sheet music published by Ardmore Music, with Roger Williams on the cover (fig. 10), but the verse is not included, as Johnny Mercer wrote no words for it.
However, in the Australian version from J. Albert and Son (fig. 11), the verse does appear and its lyric is credited to Geoffrey Parsons.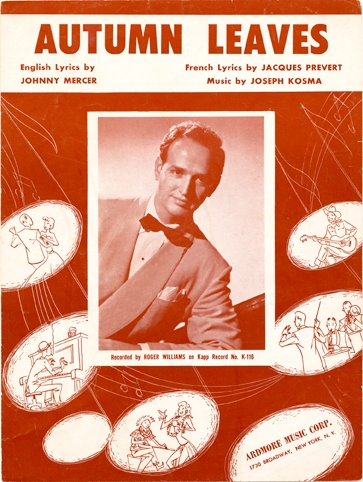 Figure 10. American sheet music.
Figure 11. Australian sheet music.
In addition to its harmonic similarity to the earlier Händel and Mozart works, "Autumn Leaves" shares compositional characteristics with other later pieces. The chord structure of the first eight measures of the chorus is found in both "Are You Real?" (composed by Benny Golson in 1958) and "Alice In Wonderland" (composed by Sammy Fain in 1951) as played by Bill Evans in 1961. According to Marion Vidal and Isabelle Champion, "La Maritza", a French song introduced by Sylvie Vartan, brought about a plagiarism suit based on its similarity to "Les feuilles mortes"; the plaintiffs won. [8]
Incidentally, the title "Autumn Leaves" is not unique. It is also the title of a 1856 painting by Sir John Everett Millais, now at the Manchester City Art Gallery, and a Danish death metal band (1994–2001) called themselves "Autumn Leaves." There are also three earlier compositions that share this title: (Words and music by James E. Stewart © 1886; Music by Jacob Henry Ellis © 1905; Music by Charles Wakefield Cadman and words by Charles Dickens © 1925).
In 1962, French singer-author Serge Gainsbourg composed "La Chanson de Prévert" as an inspired tribute to "Les feuilles mortes".
Appearances in Films
The song, originally written for the screen, was to be heard in almost a dozen films over the years.
Introduced by Yves Montand, later by Irène Joachim (dubbed for Nathalie Nattier) in Les portes de la nuit (French, 1946).
Sung again by Montand in Souvenirs perdus (French, 1950).
Recurring theme of Autumn Leaves (1956), and sung by Nat King Cole under the closing credits.
Sung by Louis Prima and Keely Smith in Hey Boy! Hey Girl! (1959).
Played in The World of Benny Goodman (TV, 1963).
Played by Chet Baker in Let's Get Lost (1988).
Played by Stéphane Grappelli in Addicted To Love (1997).
Interpolated in Midnight In The Garden Of Good And Evil (1997).
Played by Stan Getz in Sidewalks of New York (2000).
The Cannonball Adderley recording is heard in The Score (2001).
Performed by 101 Strings Orchestra in High Crimes (2002).
Recordings
The premier recording of "Les feuilles mortes" was by French singer Cora Vaucaire (January 1948, Chant-du-Monde) or perhaps by Jacques Douai in 1947, and the first jazz recording of "Autumn Leaves" was probably the one by Artie Shaw (October 5, 1950, Decca). An earlier recording of his (on September 13) was rejected. Two versions were hits in France, the first was in 1949 by Yves Montand, and the second was in 1950 by Juliette Gréco. In America, Roger Williams's piano instrumental was a number one chart hit in 1955.
The piece was a favorite of jazz musicians Miles Davis, [9] Bill Evans, Harry James, Ahmad Jamal, Oscar Peterson, and Mel Torme. Among the many excellent jazz versions recorded over the years, some of the greatest are those by: Erroll Garner (1955), Cannonball Adderley, featuring Miles Davis (1958), Bill Evans (1959), Bobby Timmons (live in 1961), Miles Davis (live at Antibes in 1963), McCoy Tyner (1963), Eddie Louiss (1972), Wynton Marsalis (1986), Keith Jarrett (live in 1986). One oddity is a 1958 Duke Ellington live performance on which Ozzie Bailey sings the song in French.
The following list still does not approach completeness, as about 1400 different jazz versions exist.
Cannonball Adderley 1958; 1960; 1963; 1966
Nat Adderley 1990
Jamey Aebersold 1989; 1991; 1995
Toshiko Akiyoshi 1963; 1990
Monty Alexander 1964
Carl Allen 1989
Henry Red Allen 1961; 1962
Karrin Allyson 1996
Franco Ambrosetti 1985; 2000; 2004
Gene Ammons & Sonny Stitt 1961; 1961; 1973
Louis Armstrong 1959
Aurex Jazz Festival 1982
Chet Baker 1974; 1977
Kenny Ball 1999
Patricia Barber 2000
Joe Beck & Red Mitchell 1980; 1996
Richie Beirach 1999
Tony Bennett 1960
Bob Berg 1990
Warren Bernhardt 2001
Acker Bilk 1989; 1993
Cindy Blackman 1989
Hamiet Bluiett 1986
Stephano Bollani & Franco D'Andrea 2000
Jean Bonal 1979*; 2000*
Earl Bostic 1958
Dee Dee Bridgewater 1992*
Les Brown 1957
Ray Bryant 1961; 1992
Kenny Burrell 1991
Don Byas 1967
Conte Candoli 1957
Benny Carter 1963
Ron Carter 2002
Hubert Clavecin (alias Gérard Gustin)/Stéphane Grappelli 1960*
Buck Clayton 1963
Arnett Cobb, Jimmy Heath, Joe Henderson 1988
Al Cohn 1954; 1961
Natalie Cole 1991
Nat King Cole 1955; 1956; 1957
John Coltrane 1962
Chick Corea c1988; 2001
Larry Coryell 1987 (with Miroslav Vitous); 2002
Stanley Cowell 1990; 1993
Wild Bill Davis 1956/1957
Miles Davis 1960; 1960; 1963; 1964; 1964; 1964; 1964; 1966
Joey DeFrancesco 2006
Buddy DeFranco 1954; 1983; 1984
Paul Desmond 1962; ?
Niels Lan Doky 2000
Kenny Dorham 1958; 1961
Kenny Drew 1975; 1983; 1983
Kenny Drew Jr 2001
Anne Ducros 2005*
Billy Eckstine/Benny Carter 1986
Duke Ellington 1957; 1957; 1958; 1958
Booker Ervin 1960
Bill Evans 1959; 1960; 1960; 1960; 1961; 1965; 1969; 1969; 1969; 1972; 1972
Tal Farlow 1955; 1977; 1991 (with Philippe Petit)
Art Farmer 1959; 1983; 1986 (with Benny Golson)
Maynard Ferguson 1955
Boulou Ferré 1986
Rachelle Ferrell 1989/1990
Clare Fischer 1970; 1975
Tommy Flanagan 1978 (with Hank Jones); 1980
Jimmy Forrest 1961
Four Seasons 1983
Don Friedman 2006
Curtis Fuller 1961
Vyacheslav Ganelin 1978
Hank Garland 1965
Red Garland 1974; 1977
Erroll Garner 1955; 1963; 1966
Stan Getz 1952; 1975; 1980; 1980
Terry Gibbs 1966
Dizzy Gillespie 1957; 1957; 1971
Benny Golson 1959; 1962
Benny Goodman 1967
Stéphane Grappelli 1960s*; 1971; 1977
Johnny Griffin 1978
Steve Grossman 1985
Roger Guérin 2003*
Jim Hall & Ron Carter 1972
Chico Hamilton 1960
Scott Hamilton 1993
Lionel Hampton 1989
Slide Hampton 1959
Tom Harrell 1999
Hampton Hawes 1967; 1968; 1968; 1968; 1968
Hampton Hawes & Martial Solal 1967/1968
Coleman Hawkins 1957; 1962
Louis Hayes 2006
Tubby Hayes 1959
Vincent Herring 1993
Eddie Higgins 2006
Terumasa Hino c1960s; 1989
Johnny Hodges 1961
Ron Holloway 1993
Freddie Hubbard 1992
Bobby Hutcherson 1983
Milt Jackson 1964
Willis Jackson 1980
Ahmad Jamal 1955; 1958; 1961; 1981 (with Gary Burton); 1994
Harry James 1953; 1954; 1954; 1955; 1956; 1962
Keith Jarrett 1986; 1994; 2002
JATP 1954; 1975
Jazz Modes 1956
J.J. Johnson 1963; 1982; 1988*
Hank Jones 1976; 1980; 1981; 1988; 2002
Thad Jones 1975; 1977 (with Mel Lewis)
Duke Jordan 1983; 1990
Stanley Jordan 1989; 1990
Wynton Kelly 1961; 1966
Stan Kenton 1951; 1951
Barney Kessel 1959; 1968; 1969
David Kikoski 2008
Lee Konitz 1968; 1974; 1988 (with Enrico Pieranunzi); 1993
L.A. Four 1976
Bireli Lagrene 1982; 1992; 1993
Michel Legrand 1950s; 1974*; 1992
Al & Stella Levitt 1988
John Lewis & Albert Mangelsdorff 1962
David Liebman & Franco D'Andrea 1989
Limelight Dance Orchestra 1988
Charles Lloyd 1966
Didier Lockwood 1979
Eddie Louiss 1972; 1994 (with Michel Petrucciani)
Mike Mainieri 1968
Manhattan Jazz Orchestra 1989
Manhattan Jazz Quintet 1986; 2008
Herbie Mann 1960; c1960s
Charlie Mariano 1963; 1991
Wynton Marsalis 1986; 1986
Les McCann 1967
Bobby McFerrin & Chick Corea 1990
Helen Merrill 1967; 1988
Red Mitchell 1982; 1990
James Moody 1951*; 1963; 1973; 1987
Frank Morgan 1956
Lewis Nash 2008
Oliver Nelson 1970
Joe Newman 1977
NHOP 1977
Marty Paich 1960
Joe Pass 1973; 1989
Bernard Peiffer 1958
Art Pepper 1960
Oscar Peterson 1955; 1960; 1961; 1965; 1972; 1973 (with Stéphane Grappelli); 1974 (with Dizzy Gillespie); 1975 (with Jon Faddis)
Michel Petrucciani 1985
Enrico Pieranunzi 2001
Jean-Michel Pilc 2003
Louis Prima 1957
Rodolphe Raffalli 2008*
Jimmy Raney 1974; 1976
Howard Roberts 1966
Gonzalo Rubalcaba 1991
Sauter-Finegan Orchestra 1954; 1957; 1957
Larry Schneider 1992
Diane Schuur 2001
Shirley Scott 1960; 1991
Bud Shank 1962
Artie Shaw 1950; 1954
George Shearing 1955; 1960
Matthew Shipp 1997
Zoot Sims 1961; 1984
Frank Sinatra 1957
Jimmy Smith 1956; 1981 (with Eddie Harris)
Johnny Smith 1959; 1960
Johnny Hammond Smith 1959; 1961
Martial Solal 1960s*; 1976 (with NHOP)
Sonny Stitt 1962/1963; 1963; 1980
Gabor Szabo 1966
Jack Teagarden 1958
Jacky Terrasson 2002
Clark Terry 1976; 1977; 1988
Toots Thielemans 1975; 1976; 1980; 1986; 1986
Jesper Thilo 2006
Sir Charles Thompson 1993; 2001
Bobby Timmons 1961
Cal Tjader 5; 19614
Mel Torme 1956; 1957; 1982; 1990; 1991 (with Cleo Laine)
McCoy Tyner 1963; 1988
René Urtreger 2005
Maurice Vander 1959
Sarah Vaughan 1982
Joe Venuti 1950s; 1952/1953; 1954; 1969; 1976
VIP Trio 1988
Mal Waldron 1981
David S;  Ware 1992
Julius Watkins 1956
Benny Waters 1981; 1983; 1993
Ben Webster 1965 (with Kenny Drew); 1972; 1973
George Wein 1969
Kenny Werner 1994
Paul Whiteman 1956
Putte Wickman 1969; 1977
Barney Wilen 1987*; 1989; 1994
Cassandra Wilson & Jacky Terrasson 1997
Jessica Williams 1989; 1994
Joe Williams 1962
Mary Lou Williams 1979
Kai Winding 1961
Louis Winsberg 1989
Phil Woods 2000
Larry Young 1963
Versions followed by an asterisk (*) are entitled "Les feuilles mortes"; all others are entitled "Autumn Leaves".
References
[1] Composer Joseph Kosma (Kozma József, born October 22, 1905, Budapest; died August 7, 1969, La Roche-Guyon, France) went to Paris in 1933. He was successful as composer for the movies (Jean Renoir, Marcel Carné), and as popular songwriter, especially when associated with lyricist Jacques Prévert (this team was "la crème de la crème" of the "chanson rive gauche — St. Germain des Prés"). Kosma also composed several classical works.
[2] Jacques Prévert (born February 4, 1900, Neuilly-sur-Seine; died April 11, 1977, Omonville-la-Petite) was a famous French lyricist, poet, and scenario writer.
[3] It can be heard on the first volume of the Intégrale Yves Montand 1945-1949 FA 199, Frémeaux & Associés.
[4] Gene Lees, Portrait of Johnny: The Life of John Herndon Mercer, New York, Pantheon Books, 2004, 215–16.
[5] Ibid., 216.
[6] A jazz version (music and words) can be found in The New Real Book: Jazz Classics, Choice Standards, Pop Fusion Classics, Petaluma, CA: Sher Music, 1988.
[7] Marion Vidal and Isabelle Champion, Chansons du cinéma, Paris, M.A. Editions, 1990, 108.
[8] Davis had a love affair with Juliette Gréco (see fig. 7) in Paris in 1949, the very year when she recorded "Les feuilles mortes". Could this explain why Davis favored the tune, and repeatedly played it between 1958 and 1966?